The education world is currently in unfamiliar territory. We're teaching, coaching, leading, and loving from a place most of us never thought we would–our own homes. Away from our students. Away from our colleagues. Away from many of the things that we hold close to our hearts. And yet, we're teaching, coaching, leading, and loving still.
As an instructional coach, my transition into this new territory has looked vastly different from what I would be experiencing as a teacher. In my coaching role, students are still my top priority, but I have to filter that through teachers. I've learned that a good coach always asks good questions, but the current circumstance has seemingly brought more questions than answers.
What do my teachers need from me? How can my teachers best support our students? What does education look like when it lacks direct human connection? How can I maintain a "long-distance" relationship with my colleagues who are normally just a few steps down the hall? What does our new normal look like right now, and what will happen when we are finally back to an actual normal?
In the middle of all of these swirling questions was one that led me where I am now. How can I support my teachers so that they are able to support our students? The answer wasn't far.
Teachers in my district, Marion County Public Schools in South Carolina, have been utilizing ADVANCEfeedback for reflection and feedback for the last two years. As a coach, it was a logical move for me to connect with teachers through video using ADVANCEfeedback to maintain a sense of continuity and familiarity. As we continue to navigate our new teaching lives, teachers, coaches, and leaders can stay connected to ultimately maximize the impact of instruction on student outcomes both right now and in the future.
Moving forward, here are a few ways that I plan to use the ADVANCE video platform:
Weekly Virtual Check-Ins
Using ADVANCElive meetings for check-ins with teachers helps fill the void of human connection that so many of us feel right now. These check-ins are an informal sharing session. They provide an outlet for teachers to ask questions, to share answers, and to connect with each other. As a coach, I'm trying to remind myself to keep these check-ins light. Right now, we all just need some genuine human interaction, and I don't want to overwhelm teachers with checklists and guidelines during that interaction. During my first virtual check-in with teachers, it was reassuring to hear concerns, to validate concerns, and to make plans for working through those. One of the benefits of using an ADVANCElive meeting for these sessions is that participants are limited to 10 or fewer. Because of this, our conversation has been more focused, our interaction has been more genuine, and our hearts have been just a bit less frustrated than when we're on a call with 40 to 50 other people.
Instructional Support Sessions
Solid, standards-aligned instruction doesn't just magically happen. Before we left school, our teachers were diligently working on district-wide teams to collaboratively produce standards-aligned instructional plans. To continue the work that teachers have already done, I'm planning ADVANCElive training sessions that teachers can join live or watch when convenient. Many of my teachers, knowing that students will need to navigate gaps in learning, have already started to think about how they can plan horizontally and vertically for the instruction that will take place after our return. Maintaining separate goals for training and meeting sessions can help focus teachers. In the training sessions, teachers gather, digest, and think individually about how they can act on the information presented. Meeting virtually in instructional teams allows teachers to work through the process together, sharing expertise and ideas prompted by the training.
Feedback for Digital Lessons
Overnight, teachers have shifted the way they present instructional content. Many teachers have never had to teach through video, and most only have experience recording themselves teaching live–and then only for self-reflection or peer feedback. Teaching content through video is difficult enough, but teaching content through video when you haven't even had a crash course or time to refine the craft is a superhuman feat. Teachers deserve quality feedback–from peers and from instructional leaders–on video lessons. Sharing screencasts of lessons with colleagues and coaches provides an avenue for feedback and new ideas. Continuing to utilize the ADVANCEfeedback platform gives teachers the opportunity to learn from other teachers' instruction and to reflect and adjust their instruction as needed. The common phrase "you don't know what you don't know" captures what so many educators are feeling right now, and video provides a way for all educators to connect with somebody else who might know what they don't.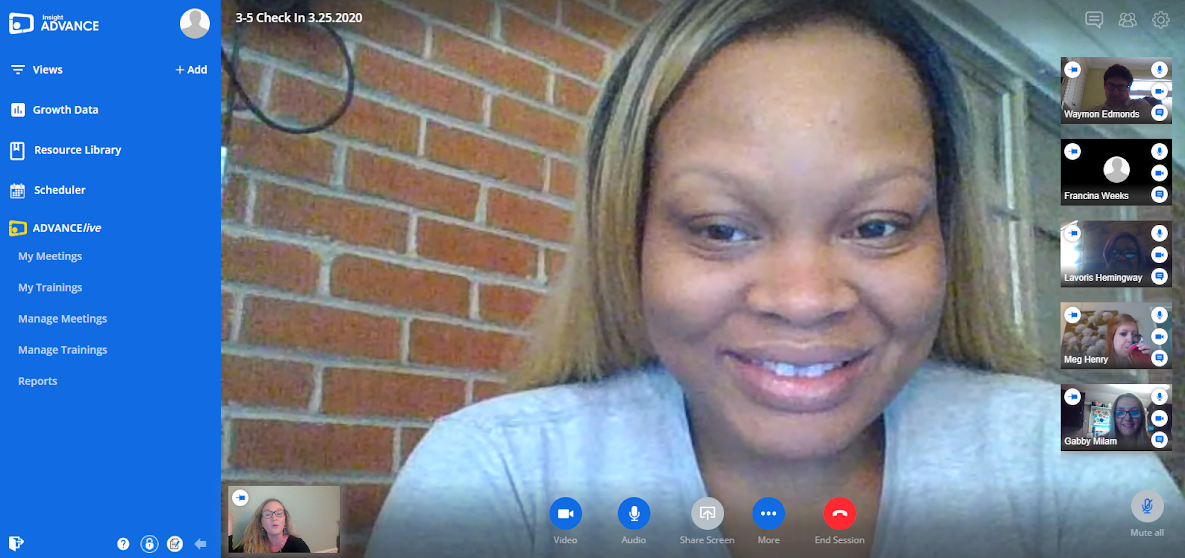 While we may not be physically connected at the moment, possibilities for continued, purposeful interaction are all around us. Video offers us a different avenue, a different challenge, a different support. Teachers, coaches, and leaders have a chance in this moment to share, to learn, and to grow in our craft so that we can continue teaching, coaching, leading, and loving in new ways.
Interested to learn how you can build a system of support for your educators? Click the button below to learn more.