As a teacher, I loved designing my own lessons. There's something exhilarating about using your own creativity, content knowledge and understanding of your students to create a learning experience. But we all know that writing lessons and units on your own takes a lot of time and energy, especially when you want to check that your lessons align to standards or that they help you shift your practice. Once I created them, I wanted to be able to share them with the world in order to save other teachers time, as well as to get their feedback and ideas for revisions. Today, there are so many ways teachers can share lessons on the web, and with many states sharing common standards, it's even easier to share standards-aligned lessons. One place to find lesson planning rubrics and quality instructional materials is Achieve.org.
Teaching Channel and Achieve.org partnered on a three-part series featuring EQuIP's (Educators Evaluating the Quality of Instructional Products) tools for Common Core lesson planning.
We showed you how to use EQuIP's Student Work Protocol to analyze student work as an indicator of the strength of your instructional materials.
We introduced you to the EQuIP's Math and ELA rubrics for evaluating lesson plans for Common Core alignment. While you can use these tools alone or as part of a team in order to plan and evaluate your materials, you can also submit your materials to EQuIP's Peer Review Panel.
In this last part of the series, we get to see lessons resulting from this process of educators creating and submitting materials for peer review. Four Maryland teachers selected these exemplar lessons from Achieve's website, downloaded the instructional materials, read the panel's feedback, and tailored the lessons to the needs of their own classrooms.
First, in Gillian Spero's 11th grade English Language Arts class in Kent County, Maryland, students are honing their rhetorical analysis skills. So Gillian selected the unit Art of Persuasion and the Craft of Argument. In this video, we see Gillian teaching the third lesson in the unit, where students analyze Brutus's and Marc Antony's speeches from Julius Caesar. Before teaching this unit, Gillian read the EQuIP Peer Review Panel's feedback on the lesson. Based on the panel's recommendations, as well as her understanding of her students' needs, she decided to add more scaffolding to support her students in their analysis. Gillian incorporated a graphic organizer for ranking the strength of the texts' rhetorical devices to further prepare her students for the summative writing assignment. The resulting lesson is an excellent example of how teachers can use ready made materials and make them work for their classrooms.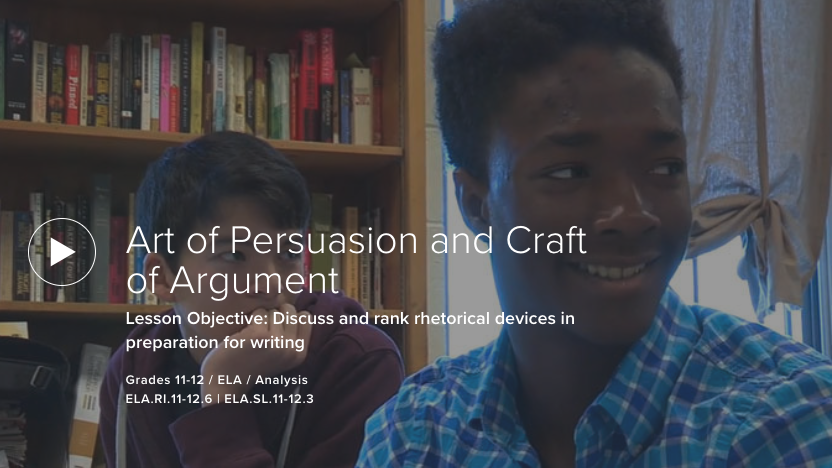 VIDEO: Art of Persuasion and Craft of Argument
Next, we go to Baltimore to see second grade teacher Nicole Gavin working with her students on understanding key details in informational texts by asking questions and noticing text features as they read. In the video, you'll see Nicole teaching lesson five from the unit Informational Text: Reading for Inquiry and Writing a Report. The lesson targets Common Core standards that build literacy in informational texts, and it's great to watch Nicole use a variety of strategies at the start of class to reinforce the learning target. When she asks her students to tell each other what the goals are for the day, you can see that she has built a culture of students owning the learning.
Moving on to math, in Factor, Expand, and Combine Like Terms, we see Michelle Goldberg and her seventh grade students in Pikesville, Maryland, applying properties of operations as strategies to add, subtract, factor, and expand linear expressions. In order to prepare this lesson, Michelle made some revisions to the plan to meet her students' needs. She also read and incorporated EQuIP's Peer Review Panel feedback on giving students more opportunities to model with mathematics by including real world applications. Michelle says that one of her goals this year is to make her math classroom more interactive, so she loves that this lesson provides ample opportunities for hands-on activities and student collaboration.
Because of the hard work of educators across the country, Achieve is able to share these exemplar lessons for all educators to use. Sometimes you may just need a starting place for your own lessons, while other times it's great to pick a ready-to-go lesson off the shelf. And it's especially great when that lesson has been aligned to common standards and vetted by others!
So, take a look at these videos, as well as the other exemplar lessons available on the Achieve website, and see if you can find a lesson that works for you. Let us know how you plan to use the lesson in your own classroom.