Students at San Francisco International High School (SFIHS) come to us from all over the world. They come from the megalopolises of Hong Kong and Mexico City, from the deserts of Yemen and the high steppe of Mongolia. They come speaking the ancient indigenous languages of Central America, as well as the cosmopolitan slang of bustling cities of Asia, Europe, and South America.
Some students come to us alone, without parents or family to support them in their new lives in the United States. Some come after attending prestigious schools in their home countries, while others enter school for the first time in their lives the day they walk through our doors.
SFIHS has served hundreds of immigrant and refugee students over the past eight years; even though each brings their own experience from their distinct corner of the world, they have one thing in common: they come to us to learn English and to graduate from high school.
As educators at SFIHS, we're tasked with teaching high school content while supporting students' growth in the English language. Additionally, we're keenly aware of our students' social-emotional needs. Our students not only face the normal challenges and obstacles of adolescence, but also are adjusting to a new country, culture, and language. Often this transition period is marked with other hardships such as reunification with parents, homelessness, poverty, and working through past trauma. Keeping all of this in mind, we must then design a curriculum that meets the vast needs of our unique student population and is relevant to our students' lives. We also work hard to teach language skills in context because we believe that language emerges most naturally in purposeful, language-rich, interdisciplinary study.
In each classroom, every day, we work to make sure our students are engaged in rigorous academic tasks that reflect the following principles, which are present in the lesson videos of teachers Kyle Halle-Erby and Christopher Maldonado. We also use these principles to create shared structures across the school.
Heterogeneity and Collaboration
Diverse groups of students work together and with their teachers to optimize learning. Meaningful work with those of different backgrounds, academic preparedness, and language skills helps each student to develop socially, academically, and linguistically.
Experiential Learning
Student growth and outcomes are enhanced through experiential learning. Lessons are designed so that students are at the center of rigorous content work and not the teacher. Additionally, significant experience outside of the classroom motivates students and enhances their capacity to participate in society by extending their language base and developing their social and cultural sophistication.
Language and Content Integration
Language skills develop most effectively in context and emerge most naturally in a purposeful, language-rich, experiential, and interdisciplinary study. Consequently, each teacher acts as a language teacher within the context of his/her curriculum, and there are no stand-alone ESL or bilingual classes.
These founding principles serve as a starting point from which our teachers collaborate and create curriculum. The principles also inform best practices that support language and literacy growth for all of our students irrelevant of their previous schooling.
Our students are coming to us to learn high school content, to learn English, and to thrive in a new culture. Because of this, we don't give them four different structures to learn vocabulary or to learn reading comprehension strategies. Shared structures allow our students to focus on learning the content and the language while not being confused by the process. Two of the most important shared structures that we have at SFIHS are Reading Guides and Literature Circles.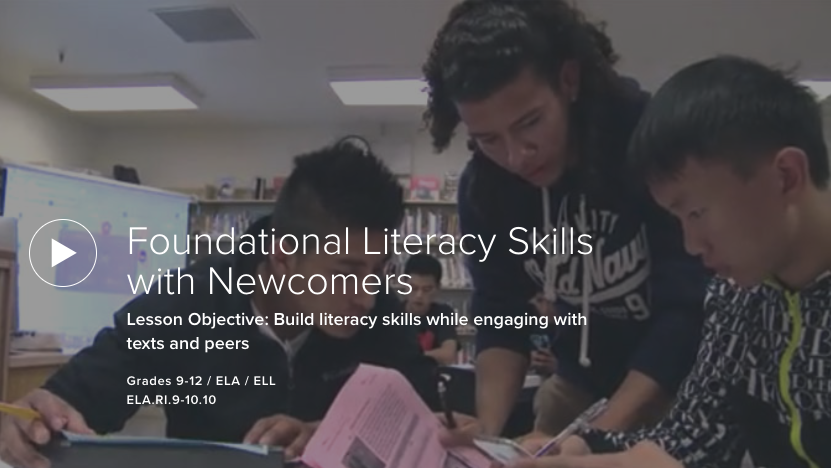 These literacy structures can be seen across all grade levels and content areas. If you walk into a Biology classroom or a Literature classroom you will see students engaging with each other and the text in a similar way. This is a deliberate practice to build consistency and repeated practice for our students. Once they learn the process, then they can focus on the content and the language no matter the classroom in which they find themselves.
Giving students similar and repeated structures to write, to read, to speak, and to listen is one move that teachers can make to support English Learners. Shared structures provide a clear and purposeful point of collaboration and will lighten the cognitive load for students, allowing them to focus on content and language learning.
The videos in this series were produced thanks to the generous support of the Evelyn and Walter Haas, Jr. Fund.