Teaching Channel and the San Francisco Unified School District have partnered to share practices for engaging and supporting all students, especially English Language Learners (ELLs). In the first part of this series, we visited two elementary classrooms to watch teachers put the district's recommended five essential practices into action (For more on these practices, read Lisa Kwong's blog post).
In the second part of the series, we visit San Francisco International High School, a small school that serves recently arrived immigrant youth and is a member of the Internationals Network for Public Schools. There is so much to learn about teaching ELLs, especially newcomers, from stepping inside the classrooms in this high school.
Building Foundational Literacy Skills
First, we visit a ninth and tenth grade literacy class for ELL students with interrupted formal education (SIFE). In Foundational Literacy Skills with Newcomers, watch how teacher Christopher Maldonado makes his literacy class both engaging and age appropriate for his high school students. The class has been reading about Frida Kahlo, focusing on a theme of standing between two places, something to which many of the students probably can relate. Christopher carries this theme throughout the lesson, even during foundational language study such as fluency practice. He carefully integrates language instruction at every moment during the lesson, while allowing for leadership opportunities and plenty of heterogeneous collaboration to engage his high school students.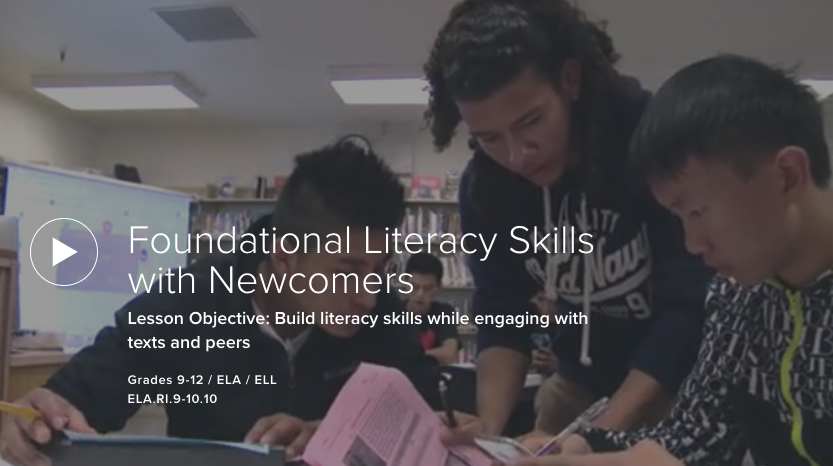 VIDEO: Foundational Literacy Skills with Newcomers
Christopher's class is filled with so many great ideas for teaching literacy at the high school level. He even provides daily phonics instruction through a Split Dictation Activity, a strategy that is collaborative, easy to implement, and tailored to the needs of his students. And for a creative idea for using your classroom tables, be sure to check out the video Write-On Tables: Tools for Communication. Christopher's DIY whiteboard tables are an excellent way to encourage students to use visuals to communicate ideas. Even teachers can have fun writing on them!
Building College-Ready Skills
Next, we visit Kyle Halle-Erby's Senior Seminar, a course designed to help students prepare for college.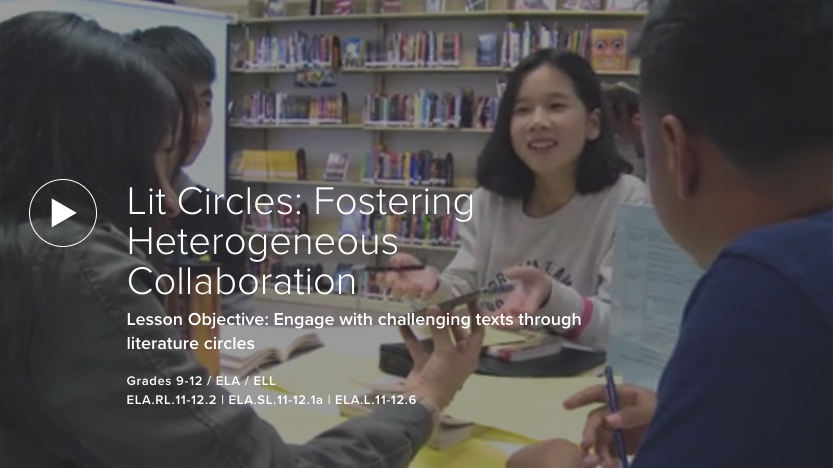 VIDEO: Lit Circles: Fostering Heterogeneous Collaboration
In Lit Circles: Fostering Heterogeneous Collaboration, we watch Kyle's students read, analyze, and discuss text as a way to build college-ready skills. Students are reading Reaching Out by Francisco Jimenez, a text about the author's experiences as the first in his Mexican American migrant family to attend college. Kyle begins with his students in heterogeneous reading groups, where they read together but then respond to the text individually. These groups also serve as the groups for literature circles, where in order to ensure meaningful group roles and equitable participation, Kyle has taught his students a structure with four rotating roles and role-alike groups for preparation.
To see this structure in more detail, watch Preparing for Literature Circles with a Jigsaw. In this video, we see how Kyle has added a jigsaw component to the literature circle. Once assigned roles, students move to role-alike groups to help each other prepare for the literature circle discussion. While all students in the group have the same role, Kyle has been intentional in creating heterogeneous groups, considering students' English proficiency, academic backgrounds, and native languages. Students use this time to prepare for their literature circle role, conferring with each other and Kyle. Once ready, they move back to their reading groups to begin the discussion. This structure adds an extra layer of support many of Kyle's students need while providing them with the opportunity to work collaboratively.
Our visit to San Francisco International High School showed us how carefully planning and integrating language study in a high school class creates an engaging, supportive and rich learning environment for all students, especially ELLs. For more information about the amazing programs at this high school, be sure to read Jacqueline Fix's blog post, Using Shared Structures to Build Literacy.
The videos in this series were produced thanks to the generous support of the Evelyn and Walter Haas, Jr. Fund.