Here's a startling statistic: 40% of high school students are chronically disengaged in school. There are enough reasons to go around, and I'd agree that many of them are outside of a teacher's direct control. But some of them aren't. As we pursue a set of skills, I have a great deal of control over how that happens in my classroom, so going into this school year I asked myself:
How can student-interest and inquiry drive the learning?
How can my teaching be more responsive to student needs?
How do I help students realize their own agency and ability to effect change?
Out of these questions came my Getting Better Together project focused on pursuing personalized learning and customized instruction.
These are big questions. They required me and my students to think very differently about our class. And it took me most of the first quarter to even conceive of the structural foundation for the unit, find my legs, and start the journey toward a workshop model. Luckily, Teaching Channel was able to come in and capture us in the process of learning together.
The following videos capture our efforts toward a more personal learning experience:
Structuring Personal Learning: A Day in the Workshop
One of the first days of our workshop model is captured in Making Learning Personalized and Customized. You'll see me open with a mini-lesson on analyzing informational text, then students scatter into learning centers based on their choice. One group of students conducts an interview over Skype. I've pulled others aside to work on skill deficits in their writing. Some apply the mini-lesson on analysis to an article for their research. And one group brainstorms questions for an upcoming interview. You'll see how I've tried to let student inquiry and choice lead, and how I've worked to provide blended support to the students at other stations while focusing my attention on targeted instruction to a small group.
Ultimately, I take stock in my work at getting better together: how I got to this place by witnessing and being inspired by the amazing work of classroom teachers from around the country as National Teacher of the Year last year, and what I learned about my practice after seeing how my students responded to this workshop model.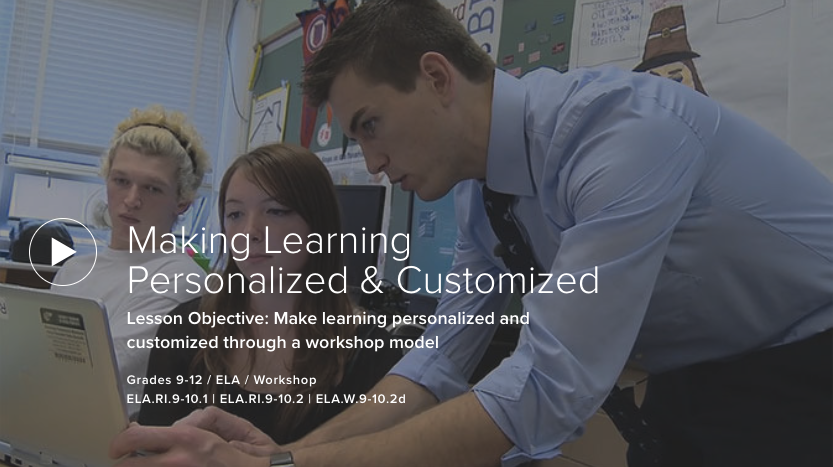 VIDEO: Making Learning Personalized & Customized
Customizing Feedback and Instruction
Helping students become better writers can feel like a Herculean task. For students, it's complex, highly variable (in terms of purpose, audience, context, etc.), and requires risk and vulnerability. For the teacher, it eats time like a certain blue monster eats cookies. Balancing student emotions, efficiency, and effectiveness in giving feedback on writing has been a great challenge for me. In Making Feedback Meaningful, you'll see the various ways I work to grow students as writers, while trying to achieve this balance.
Courageous Conversations to Improve Instruction
In Getting Better Through Authentic Feedback, leaders from two classes come together to share with me feedback from their peers about instruction, culture, and learning in our classes. I was certainly nervous about inviting students to share my short-comings as a teacher, on video, with the world. But, this practice is worth sharing because the insight that students can provide us is priceless. Only they know what it's like to be a learner in our classrooms and only they experience the instruction day-in and day-out. And the focus group allows for conversation, clarification, and creative problem solving in a way that surveys and individual conversations simply cannot. I learned so much of value and walked away from the session with solutions I could not have come up with alone.
Your Turn: Analyze and Apply
At Tch Video Lounge, you can watch about eight minutes of unedited footage of me managing the small group instruction in Bridging Learning Gaps Through Small Groups. This is a great opportunity to analyze a chunk of the lesson and think about your own practice. You'll be prompted with questions to think about how you might handle something differently or apply certain choices to your own classroom in a way that works for your context. You'll also be able to see how others answered the prompts to learn from the community!
Lessons Learned
Since the Tch crew visited, we've completed the unit this workshop model was built to support. I've discovered so many positives from personalizing the learning, and the students have created some incredible products (which will be the subject of an upcoming post).
Particularly, I learned that students need to be coached on using models effectively, but a good one can clear the weeds of uncertainty. I noticed remarkable gains in writing proficiency across blog posts for most students, likely due to targeted and flexible feedback. Most importantly, my instinct that putting in the work to create curiosity-driven learning would result in authentic engagement and students taking action has been substantiated.
My next steps are to reform the workshop from research on issues of justice, to literature and inquiry questions on identity. I hope you'll join me on that journey (more soon)!
This work was made possible through support by the Leona M. and Harry B. Helmsley Charitable Trust.