The daily craziness of being a teacher can make it hard to stay organized. Just when you've got your desk cleared off, stacks of papers come flying in. Or right after you spent time tidying up, in come students to mess everything up again.
This summer, you won't have students in your classroom. You won't even be in your classroom! But that doesn't mean you can't start thinking about how to make classroom organization go more smoothly next year. In fact, taking a step back and planning systems that work can be more productive than acting reactively to every pile of papers.
If you're looking to get better at organization, these resources can help!
Pinterest
If you're looking for organizational hacks, there's no better place to look than Pinterest. Check out our board on classroom organization to get all sorts of ideas. Then, think even bigger and get inspired by our board of creative classroom setups.
Can You Kondo Your Classroom?
You may have heard about Marie Kondo's approach to organization, Konmari, that was popularized in her book The Life-Changing Magic of Tidying Up: The Japanese Art of Decluttering and Organizing. In the book, Kondo talks about the importance of decluttering and presses readers to only keep items that "spark joy." Can this approach work in the classroom? It's hard to think about notebooks and pencils sparking joy, but most teachers could stand to get rid of some clutter. This post by Eat.Write.Teach. explores how to use the Konmari method in the classroom.
Teaching Channel Tricks
Here at Teaching Channel, we've got some great resources that will help you get organized. This collection of videos and blog posts will teach you about choreographing your classroom, systematizing your classroom, and setting up daily routines.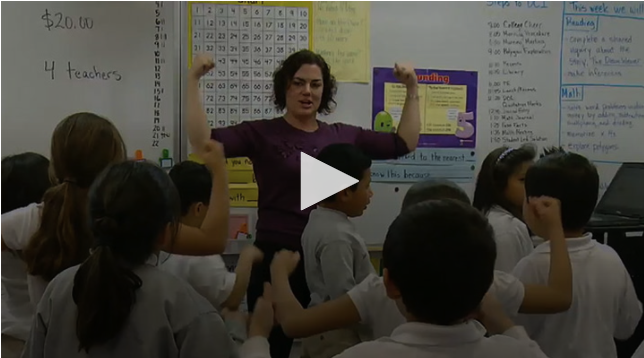 VIDEO: Choreograph Your Classroom
If you're looking for even more resources, visit our entire Setting Up Your Classroom Deep Dive.
Tackle Your Teacher Area
Do you have an area where you keep all your teaching materials? Whether you've got a cleared-off desk or piles of random papers, this post from A Modern Teacher has lots of great ideas for organizing your teacher area. Check out all the great pictures for inspiration!
Looking for More Eye Candy?
Take some time to browse these pictures from We Are Teachers. Even if you don't implement anything, you'll get lots of ideas from looking at these neatly labeled containers, color-coded materials, amazingly organized planners, and much more.
Get It Together
If you're looking for a great book to read this summer, consider reading The Together Teacher: Plan Ahead, Get Organized, and Save Time! by Maia Heyck-Merlin. It's billed as a "how-to" guide on getting organized (enough) to be a great classroom teacher. Want even more ideas for creating organizational systems? Head over to Heyck-Merlin's website, The Together Group.
What organizational hacks do you have up your sleeve? Head on over to Q&A and add your own hacks to the list. Let's work together to make this school year our most organized yet!