Introducing Our New ISTE Approved EdTech Courses!
Technology changes in the blink of an eye so keeping up can be challenging! With a seemingly constant flow of new apps, programs, devices, and strategies to wade through, teachers often settle for what's most comfortable and easy– low tech or no tech! To help you navigate the waters, our writing team at Learners Edge has developed 5 brand new, top-notch courses for better tech integration. We've sifted through the latest inedtechresearch, and searched for the best resources to provide just what you need for continued professional learning in tech integration. So without further ado, here they are!
---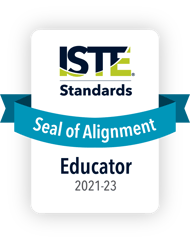 But wait, there's more! Each of our new technology courses has earned the coveted ISTE Seal of Alignment for their promotion of critical digital learning skills! As a leader in the edtech world, ISTE's internationally adopted standards define and simplify digital teaching and learning priorities for educators. Our courses, now with the ISTE stamp of approval, will help you build confidence in your tech skills and provide opportunities to apply what you've learned. The ISTE team of experts found that the resources and activities within our courses focus not only on foundational knowledge, but extend to offer "practical, real-world, and/or relevant opportunities to practice the skills and knowledge learned in the curriculum." With courses aligned to the ISTE Standards for Educators, you can be confident in the quality of learning and potential for positive change! 
Find out more about ISTE's Seal of Alignment program at https://www.iste.org/standards/seal-of-alignment.
---
Learners Edge offers 100+ amazing
Continuing Education Courses for Graduate Level Credits!
---
Learners Edge is passionately committed to providing you with continuing education coursework, materials, and tools that will help you succeed in your classroom and in your career.
Offering more than 100 print-based or online courses for teachers, you can earn the graduate credit you need for salary advancement and meet your professional development needs. Contact us today to get started!