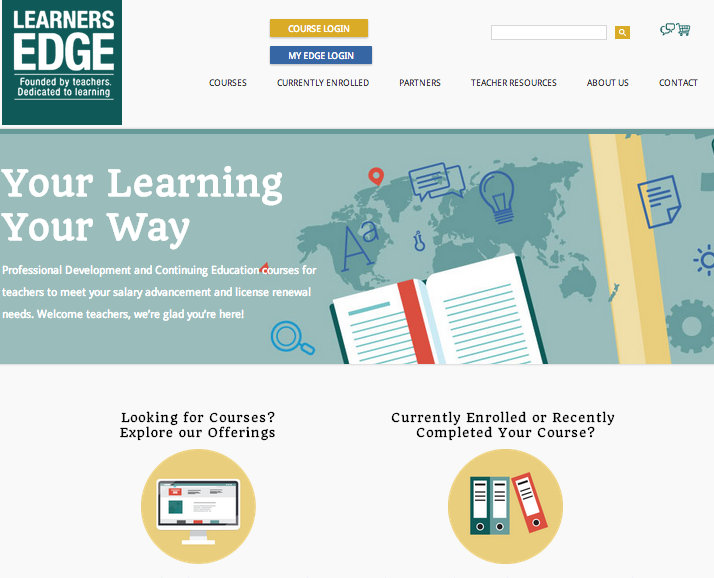 Learners Edge Launches New Website Allowing for Easier Navigation of Continuing Education Offerings
In an effort to better serve you, our customers, Learners Edge has recently undergone a complete website renovation which is now live for your use. The new site was designed with you in mind…making continuing education more accessible and easier to navigate our multitude of offerings designed to meet your CE needs.
Be sure to check out our new site at www.teachingchannel.com and let us know your thoughts and feedback about the new site!
Some of the features of the new website include:
Mobile friendly – the website will size to the device in which you're using, phones, iPads or over sized screens
"Home" button (the Learners Edge logo) located in the top left-hand corner of every page
"Return to the Top" button located in the bottom right corner allowing quick access back to the top of the page
Quick links at the bottom of each and every page for fast navigation within the siteAt Learners Edge we are consistently working to enhance your continuing education experience making sure we meet your needs. The website redesign is just one of the ways that we are hoping to better serve our customers. We always enjoy hearing from our customers on what we are doing well and also on what we need to improve to better serve you. If you have any comments or suggestions, send us an email, call us (877.394.4930), or livechat with us. We'd love to hear from you!
Learners Edge
Your Learning. Your Way.
Learners Edge is passionately committed to providing you with continuing education coursework, materials, and tools that will help you succeed in your classroom and in your career.
Offering more than 120 online courses for teachers, you can earn the graduate credit you need for salary advancement and meet your professional development needs. Contact us today to get started!