Teaching Channel Colleagues,
I want to introduce you to new colleagues and members of the Teaching Channel Family.
When I joined Teaching Channel in the fall of 2011, the first thing I did was hire Sarah Brown Wessling as our Teacher Laureate. We conceived a role that would rotate (because there are so many excellent teachers in the United States!), and that would engage practicing teachers in demonstrating through videos, blogs, and newsletters how they go about getting better. Sarah did a fantastic job for us and has developed a huge following because she had the courage to make her practice public.
Last year, with support from the Boeing Company, we added Tom Jenkins, 8th grade science teacher, District Stem Coordinator, and NASA Fellow, to our Laureate ranks. Tom teaches at Greenon Junior High School in Springfield, Ohio. Tom has been helping us to build ten outstanding units that address the engineering standards for grades five through eight. Tom collaborated with teachers in Houston and Seattle and engineers from Boeing to create these materials — but we'll tell you more about that project in the near future. This year, Tom is helping us with all things NGSS.
Sarah's role at Teaching Channel will be shifting to Laureate Emeritus — we hope for years to come — so that she can pursue some extended writing projects and launch her own website. She is also still focusing on her high school English classroom in Johnston, Iowa and working with teachers and school districts across the country. We don't want to let her go, so she has agreed to do a number of guest spots on Teaching Channel throughout the year. I want to thank Sarah for helping Teaching Channel become a place that teachers trust and value. Her example as an ever-growing classroom teacher has been unbelievably inspiring to us, and to so many of you.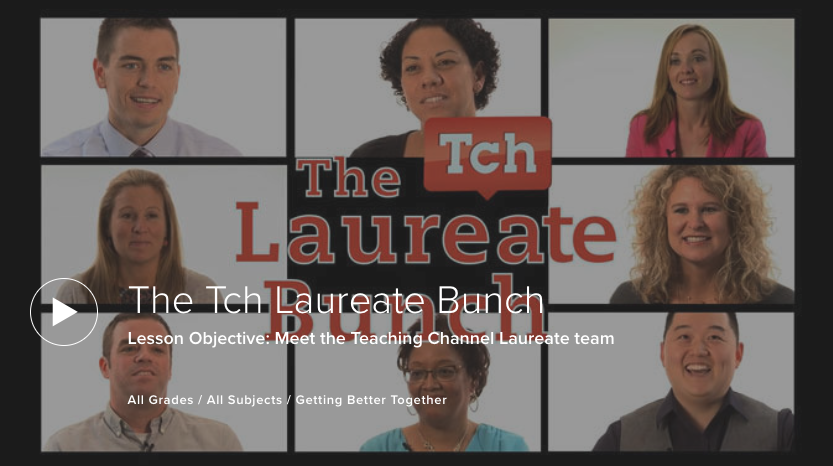 VIDEO: The Tch Laureate Bunch
I'd like to introduce you to our new Laureates, but first I'd like to thank the good people at the Helmsley Charitable Trust for their support of our Laureates initiative.
Sean McComb, high school English teacher and the National 2014 Teacher of the Year, teaches at Patapsco High School and Center for the Arts in Baltimore County, Maryland. Sean is especially interested in growing his own skills and abilities, and is convinced if he can get other teachers to help him, he'll grow much faster. Sean believes that his growth directly impacts how well he can help his students create a bright future for themselves. Currently, Sean is preparing a TED talk, and we'll be sure to let you know all about it as soon as it's available.
Geneviève DeBose is a 7th grade Language Arts teacher at the Bronx Studio School in New York City. A former US Department of Education Teaching Ambassador Fellow, Geneviève is passionate about helping black and brown kids become independent learners and making sure that they and their families are welcomed and included in a successful school environment.
Kristin Gray is a K-5 math specialist at Richard A. Shields Elementary in Cape Henlopen, Delaware. Kristin loves engaging parents in math problems at her back to school open house. To her way of thinking, math is for the curious, and she loves to foster curiosity about how it works and how math can work for you. Kristin is blogger of substantial reputation and has a Twitter following of nearly 5,000.
Joshua Parker is the 2012 Maryland Teacher of the Year and is currently a high school English teacher in the Baltimore County Public School system. Josh is most passionate about helping students and other teachers create and facilitate a learning environment where the student experience is at the heart of instruction.
Maria Perryman is a 6th grade literacy teacher at Armstrong Elementary in Chicago, Illinois. Maria loves to read and teach reading. Her goal each year is to increase the number of kids who LOVE to read and she works on it relentlessly. She is looking forward to working with other teachers who are implementing the CCSS and appreciates that literacy is so centrally recognized by the standards.
Crystal Morey is a middle school mathematics teacher at Enumclaw Middle School, in Maple Valley, Washington. Crystal is an energetic teacher, full of fun and courage, who loves mathematics, is empathetic to the fact that many of her students struggle, and wants to change that for them.
Marion Ivey is a kindergarten teacher at Longfellow Elementary in Oak Park, Illinois. Marion chose to work in kindergarten because kids that age just love learning. Marion is a person who loves learning too, and believes that kindergarten is a time when enormous growth takes place. She is excited to have the opportunity to work with other early childhood educators around the country.
Joshua Kwon is a second year teacher who came through an exceptional program founded by a baseball player, Edgar Martinez, and his wife, Holli. Their commitment to bringing teachers of color into education has been spectacular, and the fact that they found Josh and supported him in his interest in becoming a teacher is just wonderful. Josh is a math and science teacher, loves innovation, and has kids actively involved in cross-disciplinary activities.
Each of these teachers have joined us so that they can work with all of you during the coming year, asking you for advice about their teaching, asking you to join them in a collaborative effort at Getting Better Together. They are all good, committed teachers, at different stages in their careers, focused on different grade levels and subject matter. And, they share one trait in common: they believe that if teachers work together to strengthen their ability to teach, they may help many more American kids love learning. Wouldn't that be something?