Antoinette Pippin teaches fifth grade at the Dr. Theodore T. Alexander Jr. Science Center School in Los Angeles. Antoinette's school is the result of a collaboration between the California Science Center and the Los Angeles Unified School District. Antoinette's students have the opportunity to dig deep into science, but when we take a look into her classroom, we get to see how using the arts allows students to express and strengthen their science learning in new ways.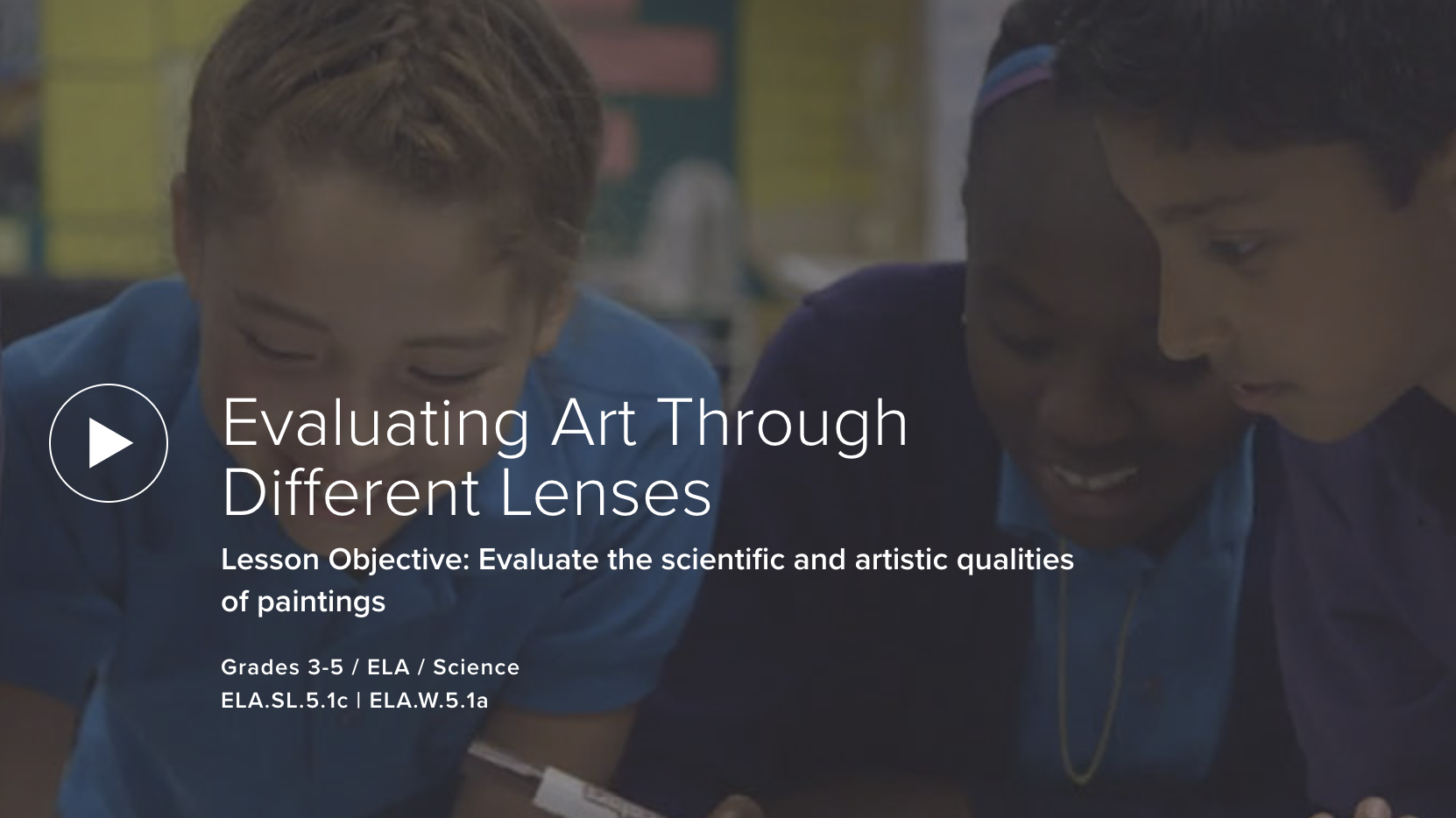 VIDEO: Evaluating Art Through Different Lenses
In this lesson, Antoinette's students compare and analyze paintings by evaluating their scientific and artistic qualities. Students begin by discussing paintings as a whole class. After the discussion, they work in small groups to analyze more paintings. Students apply their knowledge of science and art as they fill in T-charts of the scientific and artistic qualities they notice in the paintings. Though they work together to fill out the charts, students are given different color markers. What a great way to monitor their participation!
After analyzing a selection of artwork, students make claims about which painting they think is the most scientific. Antoinette then seamlessly integrates the Common Core State Standards by having students write opinion pieces to support their responses. This lesson is a lovely example of integrating science, art, and writing to create an engaging learning experience.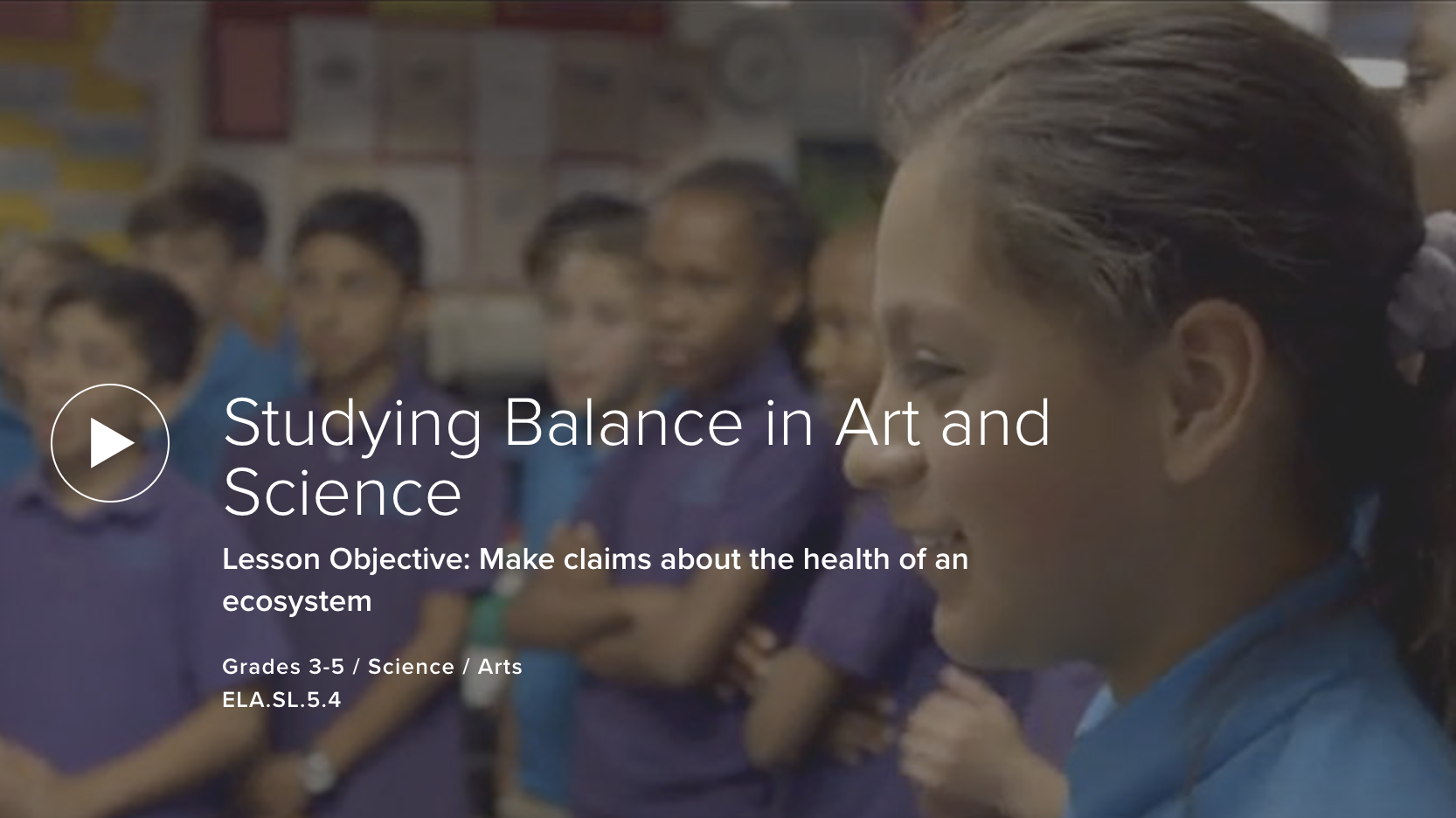 VIDEO: Studying Balance in Art and Science
In Antoinette's second lesson, students explore the concept of balance in both art and science by looking closely at an oval basin created in the 16th century. Students have been learning about the web of life and tackling the Next Generation Science Standard about food webs. In this lesson, it's inspiring to see students apply their knowledge to analyze what makes a sustainable, balanced ecosystem.
After classifying the various flora and fauna on the basin, students analyze whether or not the ecosystem is balanced. Finally, students design their own basins by using animals from the kelp forest to demonstrate a balanced ecosystem. The basin is an effective jumping off point for this lesson, engaging students in making claims about ecosystems using a real-life art object.
Throughout Antoinette's lessons, she engages students in a "Claims, Evidence, Reasoning" protocol. Using what she calls "the trifecta of argument," Antoinette helps her students to make claims and support their claims with evidence and reasoning. Antoinette reveals that the reasoning piece has been the most difficult part for her students, and tells us how she supports them in explaining why their evidence supports their claims.
As Antoinette supports her students to make claims, she also encourages them to engage in debate. She pushes students to actively listen and respond to each other. As they interact, students are encouraged to make eye contact and talk directly to one another. Antoinette gives some valuable tips for how she facilitates the discussion: repeating and rephrasing what students say, and sometimes she averts her gaze to encourage students to talk to each other.
After watching Antoinette's lessons, I'm inspired by how her students use the arts as a way to express and extend their understanding of science. How could you use arts integration to enrich your students' understanding?