"Now I understand what engineering in elementary school looks like!"
A dad raving about the Family Engineering Night
"Easiest and most fun event I have ever volunteered for at school."
A teacher leading a station
"Loved how it got all members of the family involved in problem solving!"
A response from the parent survey
How much to do you involve your families with school?
If you're like me, involvement with families consists of newsletters, emails, volunteering in the classroom, attending performances or academic celebrations, and conferences. As I started analyzing and reviewing how I was engaging families in the new science standards, I quickly realized this was purely a one-way system. Families were merely an audience for whatever I deemed relevant.
As I researched more about the traditional family involvement paradigm I'd been adhering to for so long, I realized I was missing an important and critical opportunity to have families as partners. So I started unpacking my beliefs and biases about families, and I thought about ways I could reframe and reshape what I've been doing. I was ready to move beyond the status quo and start pushing my practices to move out of my comfort zone!
The opportunity to start this work fell on my plate as a mandate. In my new role as district Elementary Science and STEM Specialist, I was informed that all 15 elementary schools would be hosting a family engineering night, for the first time EVER.
We've completed five of our school events and received overwhelmingly positive responses from teachers, volunteers, families, and students — a few of my favorites opened this post.
Here's how we did it — and you can do it too!
Where to Start
Like any teacher in a new position, I reached out to people who have more knowledge and experience. Luckily, our neighboring district was an invaluable resource in providing background, lessons learned, and recommendations. A huge thank you to Bellevue School District, specifically Cheri Bortleson.
Here are the priorities I kept during the process to help keep me focused and grounded in core values: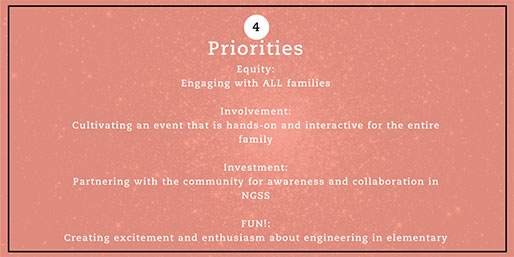 Resources and Timelines
In order to help each school's STEM Leader (teacher leader paid with a stipend) as they organized this inaugural event, I tried to collaborate, create, and respond to all of the possible concerns. Here are the resources and details on ways we have done a Family Engineering Night in Issaquah School District. The wonderful thing about an event like this is that you can tweak and tailor it to fit the needs of your building and community.
The Event
Taking a look at this visual walk through first will help you visualize the event before looking at the details. We structured the event as a free form, choose your own activity utilizing a passport system. Greeters welcomed families as they entered the school and handed them a passport that contained a school map with activity titles.
We had one or two Big Builds where families are presented with a specific challenge in which they go through the entire engineering process. This takes around 20-30 minutes to complete. There are also Openers which are quick 5-10 minute activities that are centered around specific components or examples of engineering principles. Typical nights have six to eight Openers. You can add additional stations like coding, robotics, and community organizations. The ideal time frame for an event is around one and a half hours long.
The Kit
We received a grant from Issaquah Schools Foundation to purchase a Family Engineering Kit for each school. This helped give us a starting point for what activities to include for the evening. Some things to note about the kit: It only works for 120 people if you use the entire kit and you'll need to purchase additional materials. A great feature of the kit is that the book is available for purchase in Spanish to provide more access. However, it's possible to plan and implement a successful night without this kit or to share kits between schools.
Timeline
It helps to backwards plan for an event like this, booking the date first. Then you can set up benchmarks to stay on track. Here is a general template to help get you started.
Materials
I created prepacked boxes of openers for schools to check out. Volunteers could easily grab the box, set up materials, and put out directions. Individual schools can easily gather these materials for the events, too. Most items are found in schools, especially when you start digging in closets.
After the Event
We sent out a Google Form to gather family feedback regarding the night and to help us reflect on how we could improve.
Resources
Here is a Google Folder of various resources we created to help with implementation.
My Reflections
As I think about my intentions and the impact of the event, I realize it wasn't perfect and there's more work to be done with authentically engaging with families. I need to bring more voices to the table in the planning. I also need to do a better job of intentionally reaching out to underrepresented families in the STEM fields and continue to listen and grow from others. However, we started building relationships and awareness about the importance of STEM in elementary school and that's a great feeling!