Teachers across the nation are earnestly working to implement the Next Generation Science Standards (NGSS). Three-dimensional student performances, a hallmark of the NGSS, require some big changes in classroom experiences, and everyone wants to know "what does an NGSS lesson look like in the classroom?"
The standards themselves provide some important clues:
They describe snapshots of what students should be able to demonstrate when their learning experiences have prepared them for rigorous three-dimensional performances.
They are student-centric.
They define science goals for students at every level of the K-12 educational system.
The standards, though, are standards and not curriculum. They describe new and exciting end-of-instruction goals, not a prescribed path for how to get there. Since a standard is not a lesson, what does it look like in a classroom? It can look very different in different contexts, but there are some common features that can be found in materials (lessons and units) that support high-quality science education in classrooms. These features are described as criteria in the Educators Evaluating Quality in Instructional Products (EQuIP) rubric for Science, the topic of a new video series produced through a collaboration between Achieve and Teaching Channel.
What Is The EQuIP Rubric?
The NGSS EQuIP rubric describes a set of criteria for high-quality science lessons and units. In essence, the rubric articulates the features and shifts that are inherent in the NGSS as a list of explicit "look-fors" for instructional materials. The rubric organizes the criteria into three broad categories: 1) features of lessons that support grade-appropriate and rigorous three dimensional learning for students; 2) instructional supports embedded in instructional materials for students and teachers; and 3) opportunities for students and teachers to monitor student progress across learning goals in the lessons. By describing criteria for NGSS lessons, the rubric can support evidence-and-reasoning-based feedback and dialogue about what the NGSS looks like in lessons.
What Can EQuIP Do For You?
The EQuIP rubric is a tool that can support NGSS implementation in different ways for different people, depending on what they need. NGSS EQuIP can support the:
Evaluation and revision of instructional materials
Deepening of an educator's understanding of the standards and three dimensional learning
Development of a common understanding of high-quality science lesson features, and three dimensional learning
Development of a trained leadership team to evaluate and revise common lessons
Use of specific criteria of the rubric to foster focused discussion about a particular feature of lessons (e.g., three-dimensional learning, formative assessment)
Guiding of a more formal process to design new materials
Regardless of the goal of a particular undertaking, the rubric provides a common language and set of criteria that can be used to anchor deep discussions and intellectual debate around what NGSS looks like in lessons.
While the rubric was originally developed to support educators as they evaluate instructional materials, one of the most profound benefits of using the NGSS EQuIP rubric on even a handful of lessons is developing a meaningful, concrete, and common understanding of what the NGSS looks like in the classroom. By providing teachers with a tool to help them deepen their understanding of what NGSS lessons look like, and how these lessons support learning experiences for students that really prepare them for their lives beyond high school, the NGSS EQuIP rubric can help teachers be part of a community of educators that are changing experiences for kids right now. Again and again, one of the most exciting things that comes out of EQuIP trainings is how excited participants are about their deeper understanding of the NGSS, and what that will mean for how they approach their classrooms tomorrow — not at some vague point down the line when new instructional materials are available.
New Video Series
Some of the best outcomes that emerge from bringing people together to use the rubric are the conversations and deeper understanding of the NGSS. We hope a newly released video series can offer a taste of what EQuIP can do for teachers, some starting points for conversations in your own schools and districts, as well as some information about the features of NGSS lessons embedded within the rubric.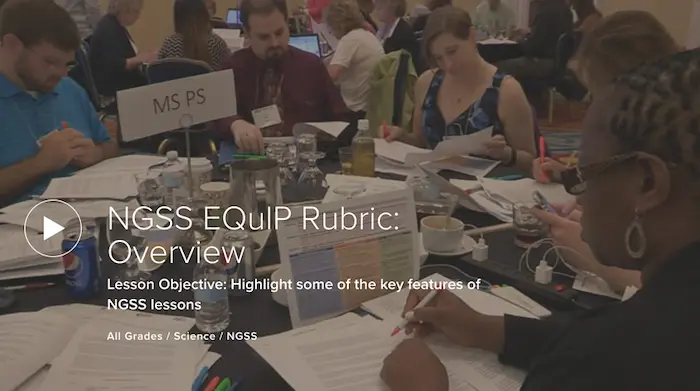 VIDEO: NGSS EQuIP Rubric: Overview
These new videos highlight the deep conversations about important aspects of NGSS lessons from a recent NGSS EQuIP training. The first video in the series, NGSS EQuIP Rubric: Overview provides an overview of the NGSS EQuIP rubric and the associated evaluation process, including the opportunities for deeper understanding of the NGSS by engaging with the rubric. The other videos each focus on educators discussing different criteria in the rubric, and what this means for classroom lessons. NGSS EQuIP Rubric: 3-Dimensional Learning focuses on the importance of authentic opportunities for students to engage in three-dimensional learning. NGSS EQuIP Rubric: Using Phenomena describes some perspectives about the importance of meaningful student engagement in high-quality science lessons. Finally, NGSS EQuIP Rubric: Evidence of Student Learning captures educators discussing how they know what students know based on lesson design and the features of the NGSS. Together, these videos can help facilitate thinking around what the NGSS looks like in classroom instructional materials, and ultimately what that means for teacher and student experiences in the classroom.
Additional Resources
As mentioned above, you can download a PDF of the NGSS EQuIP rubric. For those that are forging ahead and want to facilitate their own NGSS EQuIP training, the online facilitation guide can help you with embedded videos, a detailed, step-by-step process for leading the training, and materials to support your group. For more information on the Next Generation Science Standards and other available resources, visit www.nextgenscience.org.