RESOURCES
Download these resources for FREE by filling out the form on the right:
Full kindergarten social studies lesson plan
"Symbols of Our Country" PowerPoint
Five Essential Practices for ELD guide
LESSON SUMMARY
Visit the kindergarten classroom of Elizabeth Iwaszewicz at Lafayette Elementary, where students have been learning about American symbols during social studies. Elizabeth believes in the importance of academic discourse throughout the day, even at this early age, and you'll see that as you watch her class.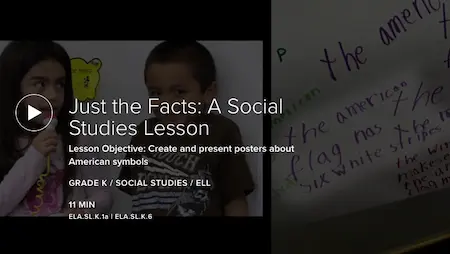 Watch the full lesson on Teaching Channel
In Just the Facts: A Social Studies Lesson, we can observe Elizabeth's kindergartners using their knowledge of fact and opinion to create and present posters about American symbols. Students work collaboratively in heterogeneous groups where each student is responsible for writing and presenting one fact in order to foster equitable participation. As you watch, notice all of the scaffolds Elizabeth provides to ensure her students are ready for the final presentation, including her use of warming up students with rug partners, as featured in this strategy video.
It's clear that Elizabeth intentionally plans for ways to support her ELLs each day. She also has some terrific ideas for classroom management, including a great line up strategy!