As a teacher, I'm always reflecting on my practice and working to learn and improve. This year, as a Teaching Channel Laureate, my Getting Better Together focus is all about meeting the needs of the diverse learners in my classes. There are a million ways to support students in our classrooms and my colleagues and I have tried a variety of strategies this year to help all of our kids grow. With these new videos, you'll get a chance to see us in action, try out one of our strategies (should you choose!), and even give us direct feedback on our teaching.
In Action
In my afternoon block of seventh grade ELA, we have four adults in the room — me, my co-teacher, and two paraprofessionals. In this video, you get a peek into our classroom and our practice as we try a new strategy that utilizes all four of us to provide targeted, small-group instruction that will help students prepare for a class discussion of R.J. Palacio's book Wonder. We noticed that our students were struggling with finding the best piece of evidence to support their ideas. Take a look to see how we created our student groups, what each station focused on, how we used students as peer tutors, and what we learned along the way.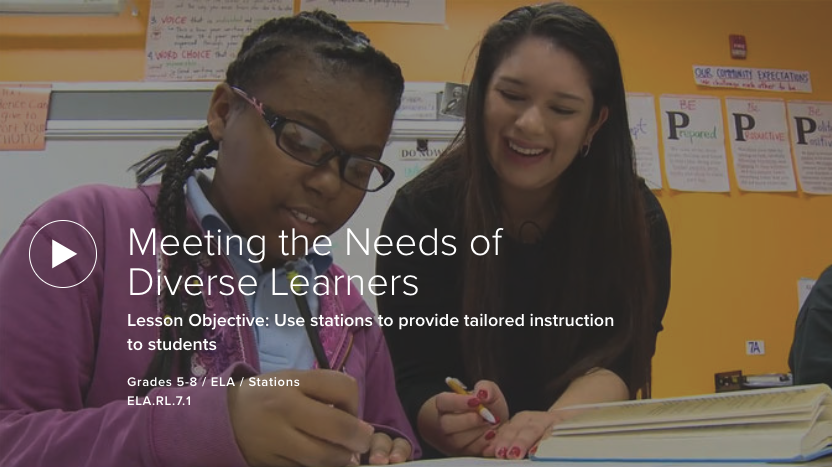 VIDEO: Meeting the Needs of Diverse Learners
Up Close
In our Meeting the Needs of Diverse Learners video, you see our groups in action but don't get an up close view of how they're structured. At Tch Video Lounge, you'll get a glimpse of one of my small groups that focuses on differentiating between major and minor events in a text. Check out how I model a strategy for students and give them an opportunity to practice it — all in seven minutes! The best part is, with this interactive video, you can give me direct feedback and add to the existing conversation around what works in our small group and what can be improved. I've already been blown away by what I've learned from educators who have left comments.
Try It Out
In both videos, you'll see me and my students using a little yellow bookmark that has three questions we can refer to as we're distinguishing between major and minor events. Watch Remember it with a Bookmark: A Reading Strategy to learn a little more about why we created the bookmark and other ways to use this strategy. And then, let us know how you might use a bookmark with your students.
As educators, we're continually learning about our students, what they know, where they get stuck, and how to support them to get better. It's not easy work at all. It's intellectually and emotionally rigorous, and is done so much better in collaboration. I hope you'll join me, my colleagues, and my students on this journey to get better at our practice. As you view our videos, we welcome any and all thoughts, questions, and ideas. Meeting the needs of our diverse learners really is a community effort. Thanks for being part of our community.