AUSL's Chicago Teacher Residency (CTR) program is about to witness its first class of graduates in Special Education. This small but mighty cohort of 11 residents will be the first to receive a master's degree in Special Education and be fully endorsed as Learning Behavior Specialists. All of these residents have spent the past nine months observing, planning, teaching, and learning alongside a mentor teacher and coach in an elementary Special Education classroom in one of AUSL's training academies.
So on the heels of Teacher Appreciation Week, I thought it was fitting to feature this group of future AUSL Special Educators and get to know them a little better as we explore Who's Who…
Top Row: Brittany Anderson, Christine Roche, John Devine, Celia Davenport, Shannon Conroy, Nathan Rosiejka. Bottom Row: Agata Sidorkiewicz, Jean Wilkinson, Jessica Kimbrough, Sally Tabatsalis, Chris Roeloffs.
Why did you choose Special Education?
Jean: I want to make sure that the needs of every student are met. I want education to be available to everyone.
Nathan: My brother has Down Syndrome, and I feel like this is the best way for me to use my skills as a teacher and an advocate.
Agata: Differences excite me and people who have exceptional needs also have exceptional things to offer.
What's something not everyone knows about you?
Shannon: I coach Girls on the Run and play the tambourine in my family's band.
Christine: I have been practicing Aikido for 8 years. I also grew up on horse farms and collect spoons from around the world.
Sally: I am a dancer, dance teacher, and choreographer. Recently, I choreographed a children's storybook ballet of the series "Fancy Nancy".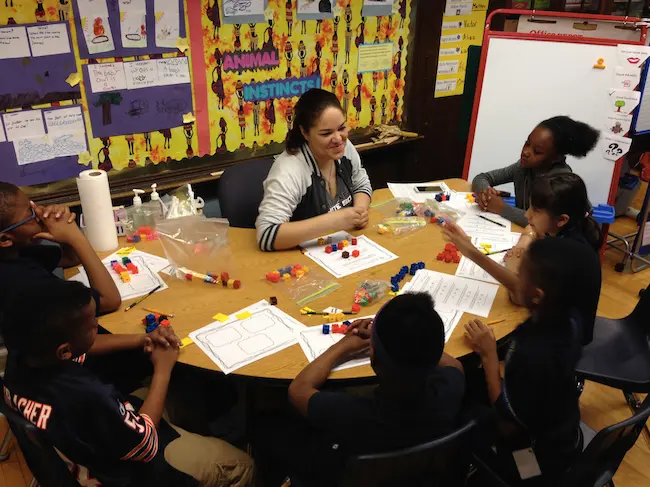 What has been your biggest learning this year?
John: Navigating the IEP process and becoming a BMC machine!
Agata: As an educator, I hold great responsibility toward improving the quality of life for myself, my students, school, and society.
Brittany: Be flexible, be reflective, and TRUST THE PROCESS!
What are you most excited about next year?
Nathan: Having my own room and working toward a fully digital classroom in the next five years.
Sally: Collaborating with the school team to develop an inclusive culture for learning.
Chris: Developing relationships with the community and being a leader inside of the school and outside in the community.
What have you learned about being a special education teacher?
Christine: It is hard work. It is trying work. But it is the best job on the planet (seriously, I love it!).
Jean: People think that we are saints, but we are not. We simply do what we need to do in order to help our students grow.
Celia: It's the hardest and most rewarding job ever in life.
What should your future colleagues know about you?
Chris: I'm a team player. I like to stay loose by keeping a good balance of seriousness and having fun.
John: I may seem quiet and shy, but in the classroom I am loud and goofy.
Christine: I am willing to help and hope others are willing to help me. I like to have fun at work, but get work done.
Who have you most appreciated this year?
Brittany: My awesome co-resident, Jean Wilkinson. She keeps me on track!
Celia: Terri Gierke, for listening to my concerns and making sure that I got the most out of my experience.
Shannon: My mentor, Kate Chen. She is an amazing advocate and truly dedicated to providing her students with a quality, individualized education. Her drive for learning and patience, and her collaborative personality make her an ideal mentor, co-teacher, and teacher for diverse learners.
So to our first cohort of Special Education residents, I thank you for an exciting year of teaching and learning together and I look forward to the great things you will accomplish as special educators. I appreciate you!