Editor's Note: Oakland Unified School District's ongoing partnership with Teaching Channel has involved producing videos, building capacity on Teaching Channel Teams, and creating interactive video for #TchVideoLounge.
Recently, the Oakland Unified School District partnered with Teaching Channel to launch a three-part video series on Engaging ELLs in Academic Conversations. We were at the beginning stages of using classroom discussion as a district-wide strategy to more explicitly integrate language development into content area instruction.
A little over a year later, our learning continues! Oakland teachers are still hard at work, exploring the ways they can best support both language development and content understanding through whole-group and peer discussions. We know from research that language learners need regular opportunities to rehearse new language and apply it in authentic contexts. We also know that teachers need to be intentional about engaging all students, especially our ELLs, so that no one can hide and everyone can experience success. And anyone who has spent time in the classroom knows fostering authentic conversation among ELLs is no easy task.
In this new series, we visit or revisit Oakland elementary and high school teachers taking on the challenge of integrating language instruction for their ELLs in content instruction. You'll see them trying new strategies, fine tuning old ones, and reflecting on student learning to hone their craft.
Using Number Talks to Develop Mathematical Thinking
At the elementary level, we have two teachers using Number Talks — a strategy used in math classrooms across the district — to help students orally share and justify the strategies and reasoning they use to mentally solve a math problem.
In Dot Talks: Building Fluency with Numbers, Julia Gelormino uses carefully planned, open-ended questioning to support her first grade language learners to articulate and expand on their thinking. Open-ended questions can be scary because they often lead to unpredictable results, especially in a first grade classroom. While it's true that the lesson may get messy when students go off script, these moments can be wonderful opportunities for learning. We see Julia use her students' responses to adjust her instruction in the moment towards articulated learning needs. Her video reminds us that open-ended questions are important for language production, but also represent a way to pull out student thinking to inform instruction.
In Engaging in Productive Struggle: Number Talks, Monique LaCour shows how she uses sentence frames in her second grade class to empower her ELLs as active learners and mathematical thinkers. By unpacking and rehearsing sentence frames before a Number Talk, Monique gives ELLs at all proficiency levels an opportunity to show off their mathematical thinking. Notice how she leverages students as resources for each other as they collaboratively and productively struggle in problem solving. This is a great skill for learning and for life!
Enhancing Reading Workshop
We often hear that instruction for ELLs is just "good instruction." While it's true that solid core instruction will support our language learners, there are teacher moves that can make all the difference for ELL success. In Reading Workshop in Kindergarten, we see kindergarten teacher Emma Coufal enhance Reader's Workshop with strategies to meet the language needs of her students. One of the many ways she does this is through paired conversations and partner work. Students have frequent, structured opportunities to discuss ideas in pairs, ensuring that at least half of all students are engaged in talk at a time. Emma also provides both independent and partner reading time for students. Partner reading with intentional, heterogeneous grouping provides both the social interaction and modeling of language that is great for all kids, but essential for ELLs. Additionally, during independent reading time, Emma confers with students as a way to gather data and differentiate instruction. See more of how to support ELLs in this guiding document.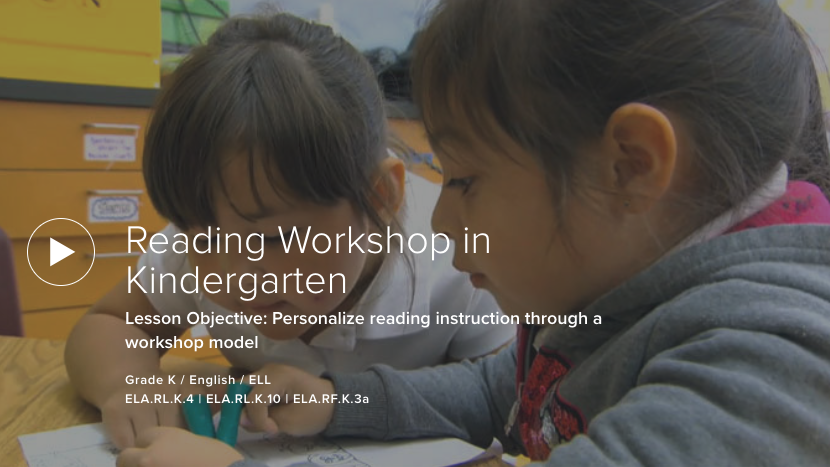 VIDEO: Reading Workshop in Kindergarten
Encouraging Equitable Participation of ELLs in Class Discussions
Our ELLs, particularly those at emerging levels of English proficiency, are often reluctant to share. Next, we'll see how two teachers in two very different classrooms set high expectations while creating a safe space for students to share.
Watch Evidence-Based Academic Discussion: Getting Started to discover fourth grade teacher Sarah Horowitz using a myriad of strategies to ensure equitable participation in a content-based conversation. She leads her students in a whole-class discussion in which they're sharing and exploring claims on an environmental issue they're researching. Through probing questions, students push each other to provide supporting evidence and clarify their ideas. In Listening & Speaking: Formative Assessment, Sarah explains how she uses the discussion as an opportunity to collect assessment data on their speaking and listening skills to inform her next instructional moves.
Patricia Segura teaches ninth grade immigrant students in their first months — sometimes even their first weeks — of schooling in the U.S. Many are students with interrupted formal education, have suffered significant trauma, and have gaps in their numeracy and literacy skills. In Supporting Language & Content Learning in Math, Patricia creates space for them to use their home language to make sense of the mathematics, while also supporting and encouraging them to communicate their ideas in English. She uses a protocol called a Participation Quiz to provide just-in-time feedback to students on their engagement in group work and mathematics discussion.
Preparing Students for Socratic Seminar
We saw Johanna Paraiso in last year's series as she facilitated a Socratic Seminar in her 12th grade English class. Many viewers have asked us how she gets students ready for such high levels of independence and quality discussions. In Scaffolding for Socratic Seminar, we see what Jo does in the beginning of the school year to build students' skills, language, and confidence. Her use of controversial topics provides students a compelling reason to communicate and justify their thinking. In the accompanying video, Using Technology to Boost Confidence, Jo demonstrates how she uses technology to provide differentiated supports to students and bring communication to a whole new level.
By creating a safe and productive space where our ELLs are invited into the intellectual process of constructing meaning through language, these teachers are empowering students as thinkers, communicators, and independent learners. Where are you in the journey of supporting ELLs in content instruction? I welcome your comments on what you're seeing and also the ideas and strategies that are working for you.