How do you transform a 45-minute PLC time from being a place where teachers get professional development, to a place where teachers are actively involved and feel ownership in the learning? This was the question I faced as I planned for my first year as the math specialist in my building.
Moving into this new position, I felt that something needed to change from the ways we have typically done PLCs. Instead of the sit-and-get structure, I introduced my teachers to Learning Labs, a method of collaborative planning and classroom observation. In three new videos, Creating a Collaborative Culture of Learning, Teacher Time Out, and Connecting the Dots, you'll see Learning Labs in action as I work collaboratively with my colleagues to create a space where teachers are actively involved in their own learning, as well as that of their students.
When I started the journey as math specialist in my building this year, it seemed a perfect fit for the focus of my Teaching Channel Laureate Getting Better Together project: establishing a culture of learning. I was, however, by no means starting from scratch. I am fortunate to work with an incredibly wonderful staff, who value the learning of their students as much as their own, and building leadership who places students at the forefront of every school decision.
With all the necessary structures in place, including a dedicated 45-minute PLC time each week, I saw an opportunity to take the learning teachers were doing individually and create a more open space to learn together, both inside and outside the classroom. I began by asking grade level teams to create norms for working together and created a new structure in our building called Learning Labs. While I have made, and will continue to make, many adjustments along the way, it is so wonderful to see and hear the teacher conversations around mathematics and student thinking becoming a natural part of our daily interactions.
In addition to the conversations outside of the classrooms, teachers are becoming more comfortable learning together publicly in front of students. I'm extremely excited to share this set of videos because it highlights so many wonderful things my staff and I are working on together.
Opening Classroom Doors to Each Other
In Creating a Collaborative Culture of Learning, I work with the third grade team, Mrs. Hutchison, Mrs. Catts, Mrs. Sharp, Mrs. Smith, Mrs. Reber, and Ms. Guido through the three distinct phases of our Learning Lab cycle. Together, we plan, implement, and reflect upon a dot image number talk on the properties of multiplication. We also discuss its connections to the Common Core Content Standards and Standards for Mathematical Practice in relation to students and their thinking.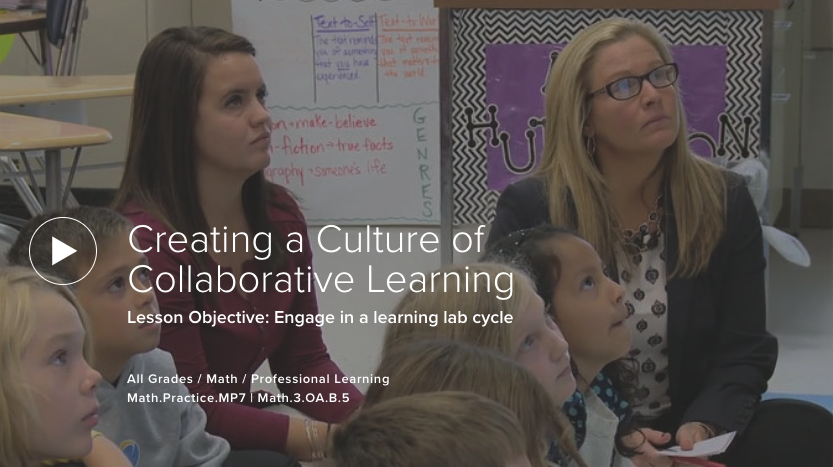 VIDEO: Creating a Culture of Collaborative Learning
Teacher Time Out
During the classroom stage of the Learning Lab cycle, you'll see our team incorporate a teaching strategy called a Teacher Time Out. This strategy was introduced to me through the work of Elham Kazemi at the University of Washington, and the term itself was coined by Teresa Lind, a math coach at Lakeridge Elementary School. Teacher Time Outs allow members of the Learning Lab to pause a lesson and ask questions of one another during the lesson itself. The strategy makes learning public, allows students to see teachers as learners, and reinforces the culture of learning we work so hard to establish in our classrooms.
Join The Conversation
In the Creating a Collaborative Culture of Learning video, you saw brief clips of Mrs. Hutchison's students engaging in a Dot Image Number Talk. Our purpose in choosing a dot image was to make the mathematics accessible to all students, while focusing on the Standards of Mathematical Practice. In order to give you a deeper look into the use of dot images during a lesson and the way in which they can be facilitated, we created an interactive video, Math Number Routines: Connecting the Dots, for Tch Video Lounge so you can join in a conversation about this practice. In this uncut, unedited clip of the number talk, we take a deeper look at the mathematical ideas that emerge and what we as teachers need to be mindful of during our facilitation. Throughout the video there are moments where you and any other teacher who has watched the video can discuss the activities highlighted. I look forward to continuing our conversation in the Tch Video Lounge!
Lessons Learned
Throughout the day, I was blown away by the thoughtfulness and reflections of everyone on the team. The teachers continually referenced the Learning Progressions and Common Core State Standards during our planning conversations and took what they learned from the experience back to their own classrooms. Some teachers chose a different dot image we had discussed that day out of curiosity, while others used what they learned from observing Mrs. Hutchison's students and did the same image with their students. The conversation was so rich, and created even more conversation around one simple set of dots… amazing!
Being new to the coaching role, I'm excited to hear your thoughts, feedback, and suggestions after watching the videos! I would love to chat with you about various coaching structures and how PLCs could be organized. How do we make the most of our time with teachers? How do we maintain a safe, collaborative environment to learn together? Are there different ways one could adapt a model such as Learning Labs to best meet the needs of everyone?