As educators, we know the value of collaboration. We ask our students to do it daily, and we hopefully get to do it ourselves. In this new series, The Power of Collaboration for ELLs, we have a chance to see both teacher and student collaboration in action, supporting the learning of all students.
In this set of videos, we're back in Waukesha, Wisconsin, where we first showed you co-teaching in a bilingual classroom at Banting Elementary. This time we visit Horning Middle School, where we get to learn from the collaboration between two content area teachers and an ELL specialist. Teachers Meredith Sweeney, Shannon Kay, and Chris Knutson create a learning environment that embraces the social nature of middle schoolers, while fostering simultaneous language and content learning for all their students, especially ELLs.
Multiple Speaking & Listening Opportunities
In this classroom, students have a major voice in learning, from being the teachers of new content, to evaluating their progress towards goals. Because the students have a diverse set of skills, especially when it comes to literacy, Meredith, Shannon, and Chris have multiple scaffolds in place to create a learning environment that works for everyone.
In Peer Teaching Through Expert Groups, we step inside a humanities lesson where one of the scaffolds is small group instruction. While studying the Civil War, rotating student experts are responsible for teaching their heterogeneous table groups a selection of new content. These experts prepare for teaching the lesson by working with the ELL specialist, Shannon, in a small group organized by reading level.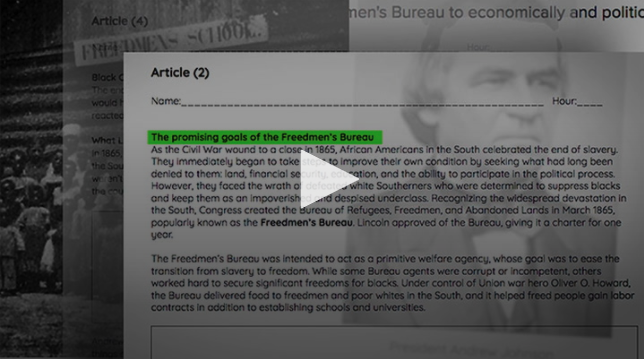 VIDEO: Peer Teaching Through Expert Groups
One of the benefits of this co-teaching model is the ability to use teaching time and learning space creatively. While part of the shared class is working with Meredith and Shannon on the new Civil War content, the other half is working on individual Civil War projects and meeting with Chris for conferring. Watch Guiding Student Learning Through Conferences to see how the conferring process works.
Another strategy that gives students an opportunity to practice new language is Total Physical Response Vocabulary. Meredith, Shannon, and Chris teach students a new word, definition, and movement to use during transition moments in class. The physical nature of the strategy coupled with the repetition helps students remember and understand challenging academic vocabulary.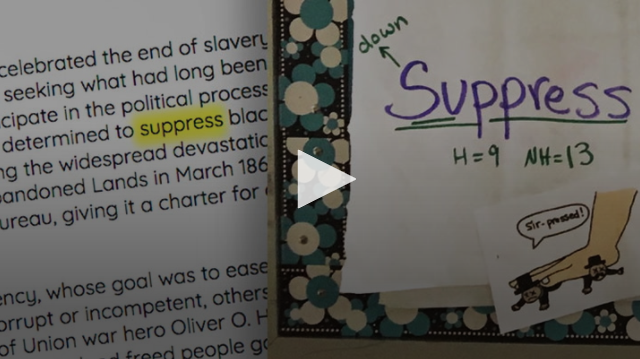 VIDEO: Total Physical Response Vocabulary
Supporting Student Collaboration
Because students in this classroom are constantly communicating, whether in small groups or as a whole class, Shannon, Meredith, and Chris use tools to promote equitable participation. Sticks and Spoons is a strategy where students are called upon by table group and number to share. Each time a teacher pulls a random spoon and stick, one person is called to speak for the group, but they're allowed and encouraged to consult with their tablemates. The ability to consult is especially useful for ELLs. Teachers can scaffold this activity further by assigning two students the same number at a table, in case one student may need extra support based on their language proficiency.
VIDEO: Sticks & Spoons: An Engagement Strategy
In Building Class Culture with Social Skills Goals, you'll see how Meredith, Shannon, and Chris help build and refine students' social skills weekly. The teachers choose a skill focus for the week, and the students pick an area of that skill to focus on as a group each day. Each table group sets goals and assesses their own work towards those goals. This strategy is great for building class culture, encouraging social-emotional learning, and as a class management tool.
When teachers collaborate, they get a chance to share their strengths and expertise to carefully craft learning experiences for their students. They also model what effective collaboration looks like, which is especially important at the middle school level.
For more resources on teaching and learning with ELLs, be sure to check out our ELL Deep Dive. And for a closer look at how Meredith, Shannon, and Chris set up their collaborative space, check out this classroom tour.