This is the first post in a series called "Classroom DIY". Tune in monthly for more like this!
So, you're looking at the AUSL Classroom Environment Checklist thinking, "What?! Window dressings, lamps, plants, and additional decorative items that provide a warm and welcoming classroom feel? What does that mean?"
Absolutely! What does it mean? You are not the first to ask that question. We often hear this as we are helping excited, yet overwhelmed teachers prepare their classrooms for the first day. They get to this component of the checklist and freeze up.
We are going to help you avoid the freeze-up by tackling this mysterious part of the checklist head-on. The following will unlock the secrets and provide you with cost-effective, relatively easy ideas that scream, "I know how to make this space welcoming!"
Part 1: Window Dressings Dress up the Place!
STEP 1: Buy a fabric shower curtain at Target, Walmart or Anna's Linnens for around $15-30. Be careful not to find yourself in the "Back to College" section. Those curtains don't always set the elementary tone you are going for). You want something that is low key and goes with any colors you already have in your room.
STEP 2: CAREFULLY, cut the curtain into 1 foot strips, which depending on the length, should get you 5 panels.
STEP 3: Using a glue gun, staple gun or thumb tacks, (all with your principal's permission, of course), begin to attach each panel to the space in between the windows, being careful to bunch strategically at the top so it hangs in folds like a curtain. See examples below from Fuller School of Excellence: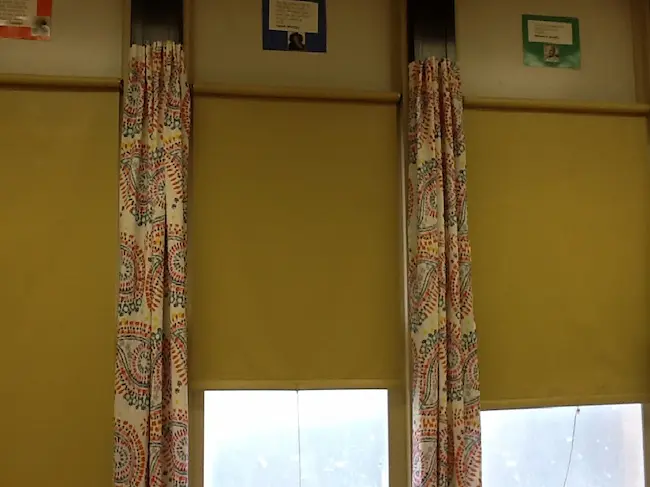 This is just one way featured here but there are many ways to do your windows. Here's some more ideas to help get your creative process going: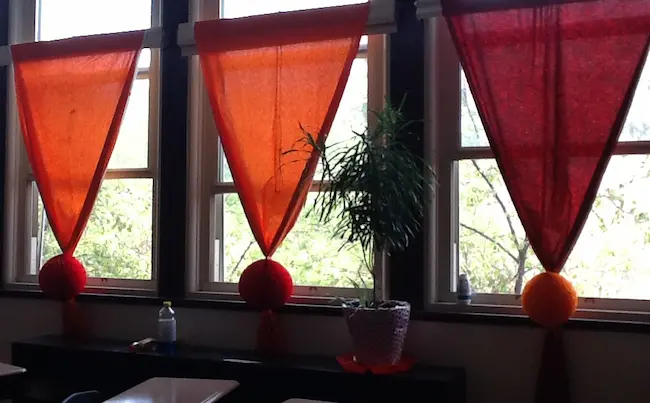 Part 2: Lamps and plants…really?
The lamps and plants are actually examples of additional decorative items. This is the part when you put on Maclemore's Thrift Shop song and go find some gently used lamps. Tall ones or desk ones, either works. We've seen them accent the reading areas of classrooms nicely.
As far as plants go, here's the bottom line – if you get one, you have to take care of it. It's not going to send the right message if a dead plant greets your students on the first day.
Part 3: "Excuse me, in what aisle can I find 'Additional Decorative items' for my classroom?"
I'm glad you asked.
Here are some examples that are considerate of both your budget and your time:
1. Quotes: You can definitely adorn your room with your favorite quotes from famous people but some of the most powerful ones are very simple. Sentences like the following written on a common sentence strip set an important tone in the room: Ms. ____ believes in you; You are a leader; Mr. _______ cares about you; I am a reader; I make my family proud.
2. Border to frame anchor charts: Cut a strip of your favorite border and line the top and bottom of your anchor charts. It adds nice detail and flair!
3. Picture holders for table group names: When you name your table groups after Morehouse, UIC, Harvard and such, you can add a decorative option by purchasing a few TOLSBY picture frame holders at IKEA for $0.99 each and frame their future alma maters.
4. Picture frames: Setting these around the room adds a nice personal touch. Fill the frames with pictures of you and your family and/or add your 5th grade school picture to show them you were once in their shoes, too.
5. Diploma/Paraphernalia from high school and college: This is a simple yet powerful addition to your room. It sets the academic expectations but also adds a little more of you to your space.
6. Benches, pillows, oversized stuffed animals, chairs for reading/rug area: Ask your family, friends, neighbors or head to your local thrift store to see if you can find furniture in good condition. It says cozy, thoughtful, warm and welcoming – your students will appreciate this and they will put it to good use.
There are many more creative ideas. This is just a start. But don't be shy! If you've got one to add, post it here for other classrooms and kids to benefit from your creativity.