"Our youth now love luxury. They have bad manners, contempt for authority, they show disrespect for their elders and love chatter in place of exercise; they no longer rise when elders enter the room; they contradict their parents, chatter before company; gobble up their food and tyrannize their teachers."

–Socrates, Fifth Century BC
This quote welcomes you when you open the book Why Do They Act That Way? A Survival Guide to the Adolescent Brain for You and Your Teen—and provokes curiosity about the similarities in the behaviors of our Fifth and 21st Century teens.
To help gain a deeper understanding of brain development in adolescence and teen behaviors, we've invited professor, parent, and psychologist Dr. David Walsh to share his knowledge and information from his nationally best-selling book in a free webinar on April 27th from 3:00-4:00 pm CDT, designed to leave you will a deeper understanding of adolescents and effective strategies for working with this age group. In this captivating webinar, Dr. Walsh will discuss the effects of screen time on the adolescent brain, teens and stress, cyber-bullying, teens and social media, and the fundamental differences between boys and girls brains.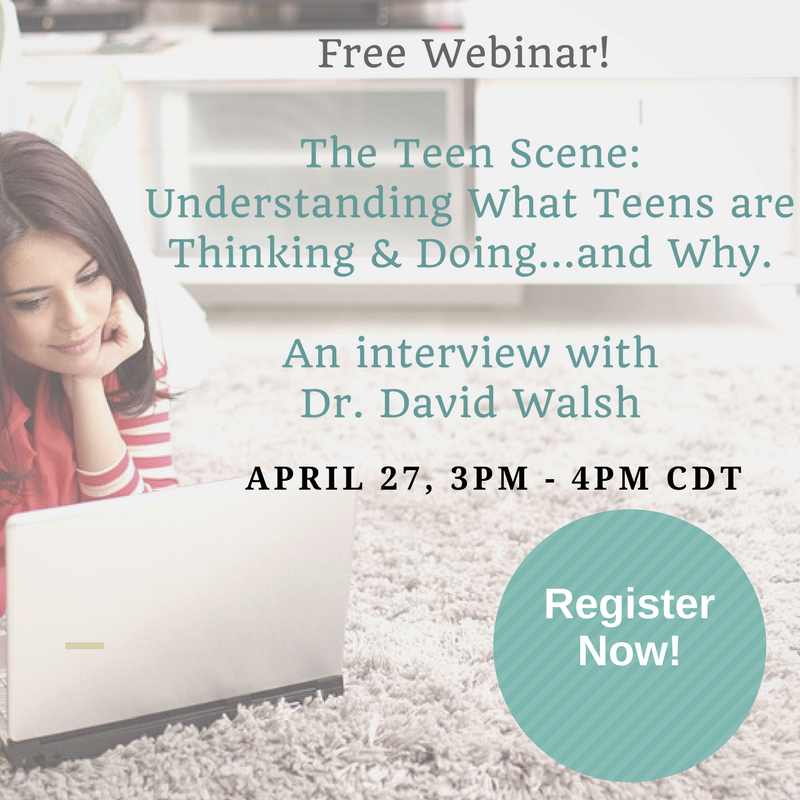 A gifted story-teller, David Walsh earned his Ph. D. in educational psychology at the University of Minnesota and is the author of 10 books. Walsh discusses how stress, technology, sleep, love, alcohol, and other factors affect the teen brain and how the brain's pre-frontal cortex—the area of the brain involved in decision making—is not fully developed until much later in life, which helps explain teen's and adolescents' affinity for risky behaviors. The book benefits every reader—but especially parents and teachers working with adolescents and teens.
This age group finds themselves navigating the waters between adulthood and childhood. Sprinkle in the stress of school, friends, parents, teachers, social media, bullying, relationships and the atmosphere can feel like a perfect storm.
As educators and parents, we can empower ourselves andunderstand what is happening in the brains of our teens. Knowledge about adolescent behavior ensures we work from a place of empathy so we can help thisage-groupthrive.
View our free, on-demand webinar because we can all use a little help in understanding this dynamic age group.
***
Learners Edge is passionately committed to providing you with continuing education coursework, materials, and tools that will help you succeed in your classroom and in your career.
Offering more than 120 online courses for teachers, you can earn the graduate credit you need for salary advancement and meet your professional development needs. Contact us today to get started!