"School bell are ringing loud and clear; vacation is over, school is here."

— Winifred C. Marshall                 
The new school year is almost here (if yours hasn't started already!) and while many of us spent at least some part of the summer preparing, it doesn't hurt to brush up on the basics before welcoming students back into the classroom.
Maybe your goal is creating student connections and setting classroom expectations, or you're looking to focus on yourself and find work-life balance. You might need the reminder of why you're heading back to the classroom for another year. However you're feeling—nervous, assured, or excited—we've got some helpful resources and inspiring words for you.
BLOGS
A Back to School Letter for 2022
— Betsy Butler, Learners Edge
Heart-Centered Classroom Management
— Lindsey Acton, Teaching Channel
3 Social-Emotional Learning Practices To Ease Students' Transition Back-to-School
— Susanne Leslie, Learners Edge
A More Engaging Back to School Night
— Maurice J. Elias, Edutopia
PODCASTS
Episode 49: Redefining Your Approach to Behavior Management
—Teaching Channel Talks
4 Habits That Will Take Your Teacher Game to New Levels
— This Teacher Life
Tapping Pencils and Classroom Management with Stacy Salter
— Teachers in America
VIDEOS
Rita Pierson: Every Kid Needs a Champion
— TED Talk
Leading With Learning: The First Day of School
—Teaching Channel
CONTINUING EDUCATION COURSES
Raise the Bar: Positive Interventions for Students Who Challenge Us
Course 5849 | 3-Credit | K-8
Challenging behavior can certainly get in the way of academic progress, but there is hope! By deconstructing the functions of the problem behaviors, educational professionals can address the root of a child's issue instead of simply addressing the behavior. This course gives a solid road map for the philosophy behind positive behavior intervention systems (PBIS) while offering several different ways to get you (and your students) to your destination: appropriate behavior that is conducive to a positive learning environment.
Course 5109 | 3-Credit | K-12+
One of life's universal truths is the need for connection. In Connection in the Classroom, you will learn how emotionally connected classrooms support students in achieving their goals and you will discover what neuroscience research says about why emotional connections are key to students' success. This course will teach you how to create an emotionally connected learning environment that is safe, healthy, and nurturing.
Time Management Strategies for Educators
Course 5142 | 3-Credit | PK-12+
From planning meaningful lessons to connecting with parents, not to mention paperwork and grading, there's too much to do and not enough time for everything. In this course, you'll learn how to prioritize tasks, use your time more efficiently, stop procrastinating, and teach your students how to manage their time, too! Most importantly, because we know there's no "one size fits all" when it comes to time management, you'll create your own plan selecting from a variety of curated ideas from time management experts to develop practices that complement your personality, work style, and life!
OTHER RESOURCES
Back to School — A Free 3-part Webinar Series
Learners Edge, featuring Dr. Wendy Amato and guests:
Dr. Kathleen Cook and Dr. Brad Uhing, Augustana University
Dr. Emily Davis, Founder, Teacher Development Network
Dr. Mike Rivas, a Professor at California State University
A Proactive Guide to Positive Behaviors Across Learning Environments
A Free eBook from Learners Edge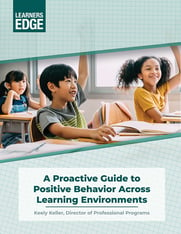 Never-Ending Random Acts of Gratitude Giveaway
Learn More and Enter to Win at LearnersEdge.com
With Never-Ending Random Acts of Gratitude, Learners Edge will randomly select one teacher every month to win a $250 gift card for self-care, simply because we know that teaching is selfless and heroic. Winners can use the $250 however they wish. Self-care is what you say it is!