American Education Week (November 13-17), first celebrated in 1921, is an opportunity to celebrate public education, to inform the community of the accomplishments and needs of public schools, to secure cooperation and support from the public, and to honor individuals who are making a difference in ensuring that every child receives a quality education.
How will you kick off American Education Week?
Monday, November 14: Kickoff Day
Across the country, schools will celebrate excellence in education by hosting kickoff events and activities for American Education Week. Check out this Online Toolkit packed with ideas and promotional materials to help you get the party started!
How you can participate:
Celebrate with your social networks. For ideas, check out this NEA social media "cheat sheet" and be sure to use #AEW2017.
Snap a picture that represents your public school pride and post it on your social channels using #PublicSchoolsForAll.
Check out some events that are already planned on Twitter at #AEW2017 and then tweet your ideas or plan to join the conversation.
Check out the artwork from NEA – free and available for use to promote the celebration.
Update your Facebook status to highlight the importance of quality public education and thank educators for their dedication and hard work.
Tuesday, November 14: Parents Day
We know that keeping the lines of communication open with parents and families is a key factor in student success. Parents Day is a great day for schools and teachers to invite parents into the classroom for a firsthand look at what the school day is like for their children.
In this new Tch video, children and parents participate in a wide range of outdoor activities. Led by a naturalist, children explore bugs, go on a nature walk, paint with mud, and engage in other hands-on projects. It's wonderful to watch parents learn how to engage their children in environmental science in a developmentally appropriate way. Watch all of the videos in this series.
VIDEO: Learning Through Nature
Wednesday, November 15: Education Support Professionals Day
When it comes to education, it really does take a village! Education Support Professionals Day is a great time to remember that support professionals, such as school secretaries, food service workers, custodians, and bus drivers are essential partners in education. Education Support Professionals (ESPs) work side-by-side with teachers and administrators to keep schools running and students safe, healthy, and ready to learn.
Thursday, November 16: Educator for a Day
Invite your school board directors, legislators, and community leaders to be an Educator for A Day and experience the challenges of teaching and meeting the needs of all students every day.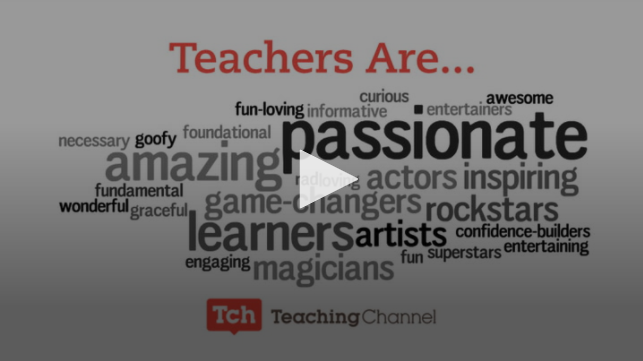 VIDEO: Teachers Are…
Learn more about this program through the Educator for a Day Toolkit.
If you're a community leader, step out of your comfort zone and volunteer at a local public school. Check out this article on one Louisiana legislator who makes education a top priority by substitute teaching.
Tell your stories! Whether you're engaging your community leaders in person or virtually, it's important to share your experiences in the classroom and participate in the conversations that impact education policy and change. Check out our storytelling series, Leading Out Loud: Teacher As Storyteller for some tips to get started.
Friday, November 17: Substitute Educators Day
Substitute educators play a vital role in the maintenance and continuity of daily education.
Saturday, November 18th: Watch Inspiring Videos
Teaching Channel partnered with NEA to produce a series of videos on Collaborating to Plan & Teach Gifted ELA Lessons. Watch all of the videos in this series.
VIDEO: Respectful Talk
And this series is just the tip of the iceberg!
Wrap up American Education Week this year by exploring the many inspiring videos from Teaching Channel. Interact with the featured teachers and the Tch Community in the comments below the videos that resonate with you, and download the lesson plans so you can try out your favorite strategies next week.