A challenge of being a veteran teacher is that some of my favorite units of instruction become inadequate to meet the needs of today's students.
Often times it can be because the subject matter or theme becomes outdated. Other times it can be because the standards change or become more rigorous. With the introduction of 21st century science standards (be they NGSS or updated state standards), we as educators face a couple of awesome challenges. How do we create or update content that not only adequately addresses the standards, but also inspires our students to consider various career possibilities? And how do we shift our practice to allow our students to better experience this new type of content?
One avenue that I've found useful when I attempt to address both of these concerns is recording myself and then later reflecting upon the events that transpired within my classroom. That's why I chose to invite Teaching Channel, as well as all of you, into my classroom to see my students exploring science, math, and engineering concepts in To the Moon: Applying the Engineering Design Process.
While this unit has always been a student favorite, I'm always looking for ways to improve. My goal is to completely integrate engineering, science, and math standards throughout this multi-day unit.
While this video captures a good deal of the unit, please bear in mind that the vast majority of the science content was front loaded in the days prior to the arrival of the camera crew. The primary objectives of the shoot were to capture the students applying mathematics and also to use the engineering design process to work through an engineering design challenge.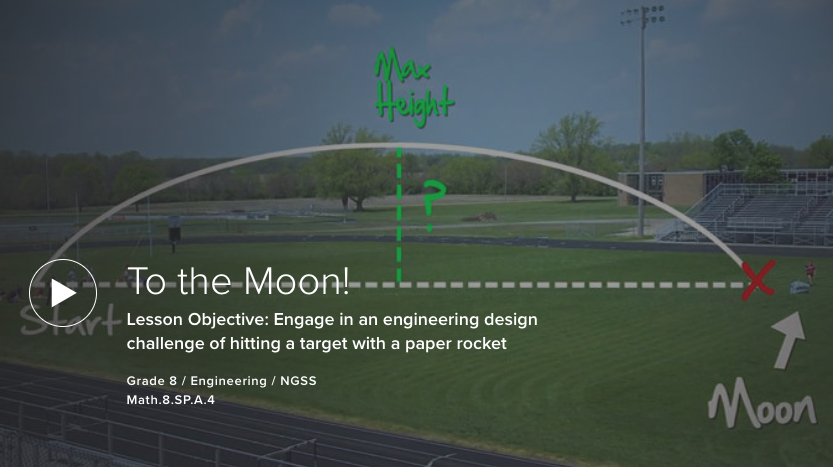 VIDEO: To the Moon!
While I'm looking forward to input from you and a rich discussion about adapting this and other units of instruction to meet 21st century science standards, there are certain aspects of the video that I would like to highlight.
Team Teaching: I've been very blessed over the years to work in buildings full of wonderful educators. The math teacher in this video, Tonda North, is at the top of this list. Why not partner with a wonderful educator to create a unit of instruction that not only allows her to cover her math standards, but also allows me to address both science and engineering standards? Not only are a variety of cross-curricular topics covered, but they are both reinforced and applied throughout the engineering design challenge. It is truly a win-win situation. My recommendation: please don't limit yourself to STEM subject areas. Over the years, I've worked with ELA, History, Art, and Music departments. All with wonderful results.
Experts: Reach out to community members to help you make those overt career connections. Geologists, rocket scientists, physicists, engineers, masons, and firefighters are just a handful of examples of experts that have paid visits to my room. Why not use your course content as an opportunity to expose your students to possible career options? It will not only provide validation for the unit, but it could also help them make more informed course selections throughout their high school and collegiate careers. To find these experts, I not only lean on my existing network, but I also attach a volunteer form to my beginning-of-the-year "Welcome Letter," in which I request guest speakers to help introduce or conclude thematic units. Many have stepped up not only to speak to my students, but they've also helped instruct, and/or offered to host us in their place of work.
The Engineering Design Process: Please see my Tch blog, Rube Goldberg Machines and the Engineering Design Process, for more on this.
Tonda and I have included all the materials that we used throughout the unit as downloadable files on the video page so that you can share all or parts of this experience with your students. We're also hopeful that you'll provide feedback and/or additional resources to help us make improvements. We use the iterative process as well!
I'm especially looking forward to suggestions on how I can reinforce scientific concepts throughout the lesson. When sharing, please feel free to send a message or, even better, post a comment below so that we can start a discussion from which all can learn. If your comment is in reference to the video, please make sure to include the time code. Thank you for your help and happy launching!